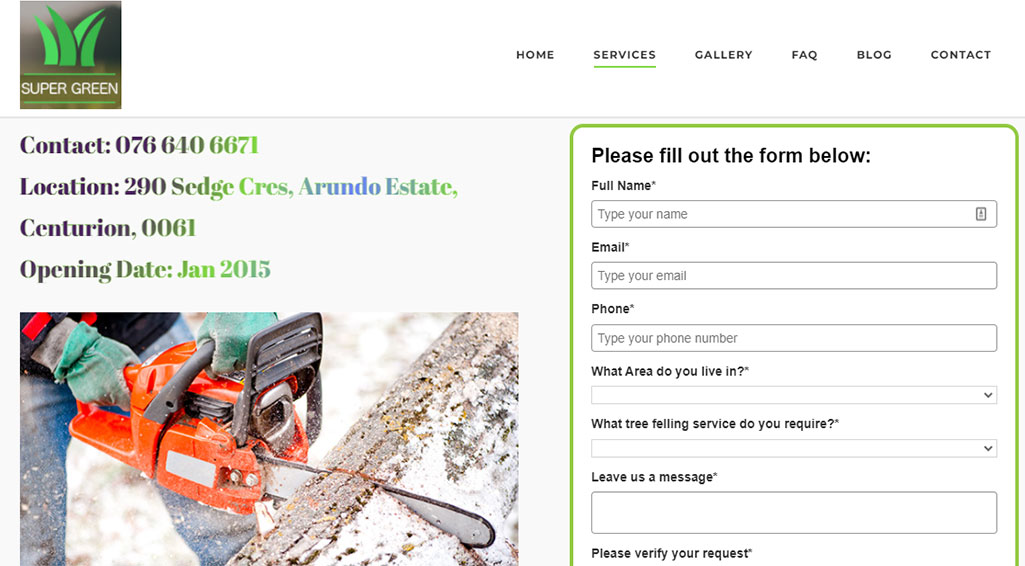 290 Sedge Cres, Arundo Estate Centurion, Gauteng , Centurion, Gauteng 0061
Location
290 Sedge Cres, Arundo Estate Centurion, Gauteng, Centurion, Gauteng 0061,
Only skilled professionals can perform tree felling. The process is critical for cohesion. Do you need assistance? Contact Super Green Tree Felling Centurion today
Tree Felling Centurion is your go-to company for all things tree related. From the first phone call to our team. Super Green Tree Felling Centurion are experts in their field when comes to cutting down trees – no job too big or small. Give us a call today
Is your garden looking a little too overgrown?
Well, don't worry, we can help. Super Green Tree Felling Centurion are experts when it comes to tree felling. We'll take care of everything for you so you don't have to lift a finger.
Not only will our skilled professionals take care of the tree felling for you, but we'll also leave your garden looking neat and tidy afterwards – no mess, no fuss.
Some of the services we offer at Super Green – Tree Felling Centurion
Tree felling
Tree Trimming
Tree Thinning
Stump grinding
Stump Removal
Tree Cropping/shaping
Shrub Trimming
Hedge Trimming
Palm Remove
Palm Trimming
Contact us today for a free quotation!
Super Green – Tree Felling Centurion
290 Sedge Cres, Arundo Estate Centurion, Gauteng 0061
076 640 6671
Tuesday
7:00 am - 6:00 pm
Wednesday
7:00 am - 6:00 pm
Thursday
7:00 am - 6:00 pm
Saturday
7:00 am - 6:00 pm