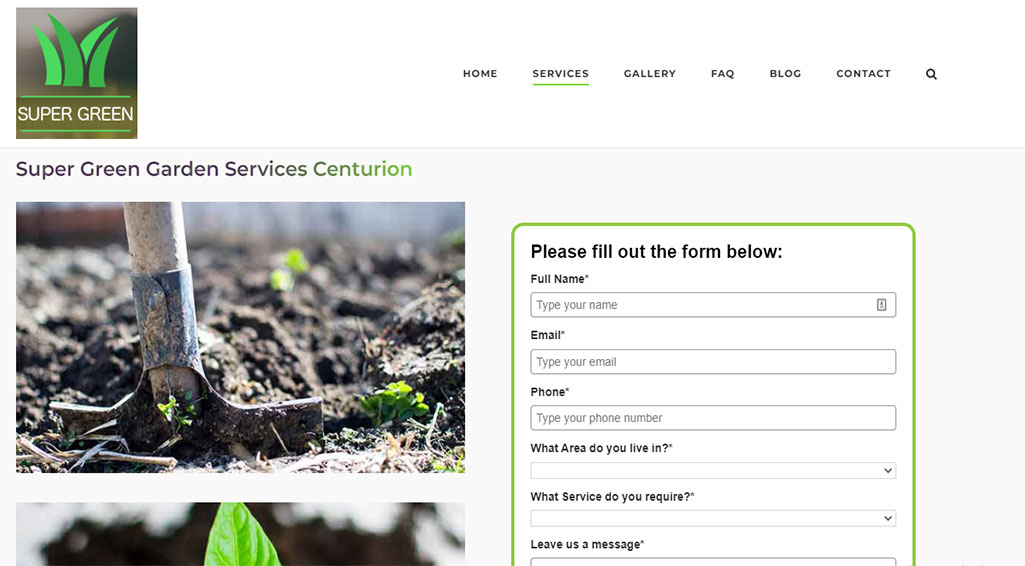 14 Oxford Office Park, 3 Bauhinia St , Centurion, Gauteng 0157
Location
14 Oxford Office Park, 3 Bauhinia St, Centurion, Gauteng 0157,
Super Green Garden Services helps you enjoy a beautifully maintained garden without lifting a finger. Comprehensive and tailored gardening. Get in touch for service
We at Super Green Garden Services know how much you love your beautiful garden, so we want to help keep it looking its best. With our comprehensive and tailored services for all sorts of properties including residential homes as well small business locations throughout the area – there's no job too big or small! Give us a call today
Tired of trying to maintain your garden and not getting the results you want?
Let Super Green Garden Services take care of everything for you. From comprehensive services that cover all the bases, to tailored services that focus on your specific needs – we have you covered. You can relax and enjoy your garden knowing it will always look its best.
Our team of experienced professionals know how to make your garden look great. We'll take care of everything, from planting and watering, to weeding and pruning – so you can sit back, relax, and admire your beautiful garden.
Services we provide to our clients:
Garden Service
Landscaping
Fertilizer
Garden Refuse Removal
Tree Felling
Contact us today for a free consultation! We would be happy to discuss our services with you in further detail.
Super Green Garden Services
14 Oxford Office Park, 3 Bauhinia St Centurion 0157
082 772 6673
Tuesday
7:00 am - 6:00 pm
Wednesday
7:00 am - 6:00 pm
Thursday
7:00 am - 6:00 pm
Saturday
7:00 am - 6:00 pm