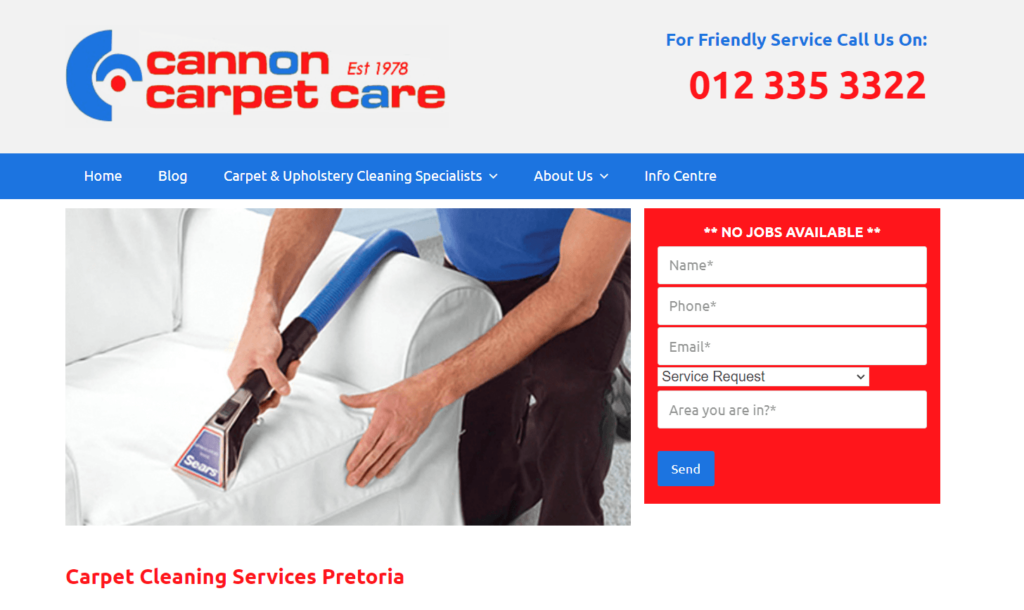 Cannon Carpet Cleaning Pretoria is the leading carpet and upholstery cleaning service in Pretoria.
We assure you that we will put those stained, smelly carpets to work. You'll witness a miraculous transformation. After a thorough cleaning by our dedicated team, you'll be ready to snuggle up with a blanket on your brand new, stain and odour free carpets and watch a movie. Your home will be more hygienic, aesthetic, and safe for you and your family.
Our excellent service is known throughout Pretoria. Cannon Carpet Cleaning is a household name in the Pretoria and Gauteng region, from Moreletapark to Onderstepoort, Mamelodi to Elandsfontein. We are proud of our unrivalled efficiency in providing valuable carpet cleaning services to Tshwane.
We are proud to be one of the leading carpet cleaners in Pretoria thanks to our fantastic work ethic and professional staff. Choose Pretoria's leading carpet cleaning company for friendly, professional service and results that exceed expectations. The best carpet cleaner in Pretoria.
We know that Persian Carpet Dry cleaning is a value-added service, and we implore customers to leave the cleaning to our team of cleaning experts. We are a dry carpet cleaning company that now offers Persian/Artistic Carpet PRO DRY cleaning.
Our superior, Eco-friendly cleaning agent and specialized cleaning equipment will not only remove dirt and removable stains from carpets but also restore their lustrous glow. We offer this service to our residential clients who want to revive their carpeted areas.