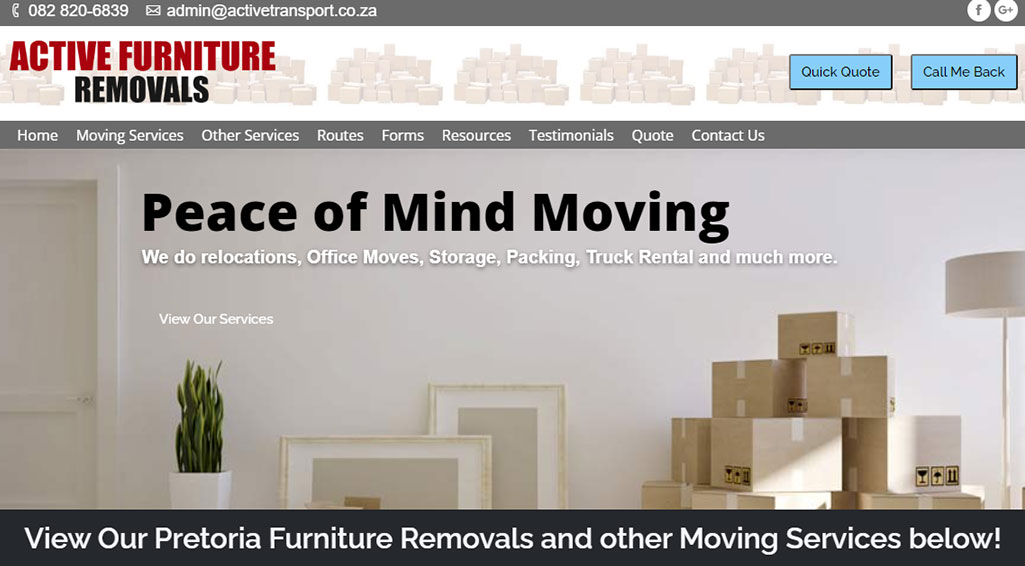 322 Domkrag St, Waltloo, Pretoria, Pretoria 0184
Location
322 Domkrag St, Waltloo, Pretoria, Pretoria 0184,
Let's face it, moving is stressful. With Active Transport, you have peace of mind while transporting your goods to a new destination. Affordable and professional moving company in Pretoria
Active Transport offers many services to make your move easier. Whether you need packing, unloading or transportation of all sorts – we've got it covered! We offer affordable rates and are professional movers who will keep the goods safe during transport so that there's no risk in losing anything important at any point in time.
Services by Active Transport Moving Company
Storage Facilities
Packing & Wrapping
Truck Rental Pretoria
Vehicle Transportation
Long Distance Moving
Office Removals & Corporate Moving Services
Worried about your move?
Active Transport Moving Company is here to help. We offer a range of services to make your move as smooth as possible, from packing and transportation to unloading. We're affordable and professional, so you can relax and focus on other things while we take care of the move for you.
Moving is stressful – but it doesn't have to be with Active Transport by your side. Relax and let us take care of everything while you focus on settling into your new home. You won't regret choosing us!
Contact us today for all your moving requirements.
Active Transport – Moving Company
322 Domkrag St Waltloo, Pretoria 0184
0828206839
Tuesday
8:00 am - 4:00 pm
Wednesday
8:00 am - 4:00 pm
Thursday
8:00 am - 4:00 pm
Saturday
8:00 am - 4:00 pm